One of the Great Little Wineries
Cape Grace was planted in 1996 by Robert & Karen Karri-Davies whose family have been part of the Margaret River region since 1875.
Cape Grace's handcrafted, single vineyard wines are generous with the flavour and characters of our unique Wilyabrup sub-region. The vineyard is managed under sustainable principles and traditional wine making techniques  are used, with our reds gently hand plunged and basket pressed. With depth, style and character our wines have earned an impressive array of medals, reviews and followers over the years.
Discover one of Margaret River's Great Little Wineries when you visit the authentic rustic tin-shed-in-the-forest winery and during spring you can delight in the magnificent display of wildflowers.
Our Story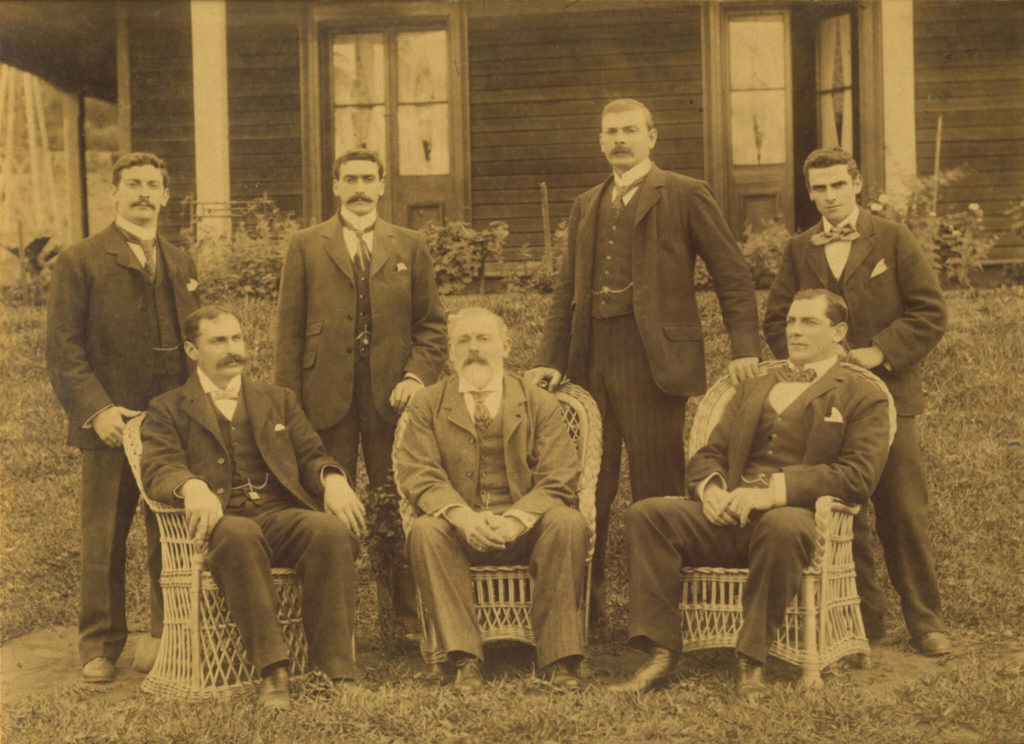 Cape Grace is a real family affair – originated, owned and run by Robert and Karen Karri-Davies – with a fascinating local history.
In 1875, Robert's great grandfather, MC Davies (pictured centre of the front row above), built a timber mill at Karridale with jetties at nearby Hamlin Bay and Flinders Bay to ship timber to England and the Far East; he also built the Cape Leeuwin lighthouse so his ships and others would not run aground in the treacherous waters. Later, he established a livery stable and way station at the railhead near the banks of Margaret River.
In 1996, one hundred years after the Cape Leeuwin lighthouse was built, Robert and Karen planted their 15-acre vineyard on the headwaters of the Wilyabrup Valley.
From the start they set out to produce handcrafted, single vineyard wines managed under sustainable principles. Their belief that 'great wine is grown in the vineyard' was of vital importance, so when the farm that Dr Tom Cullity originally wanted to establish Vasse Felix on became available, Robert and Karen knew they had a prime grape-growing site.
Winemaking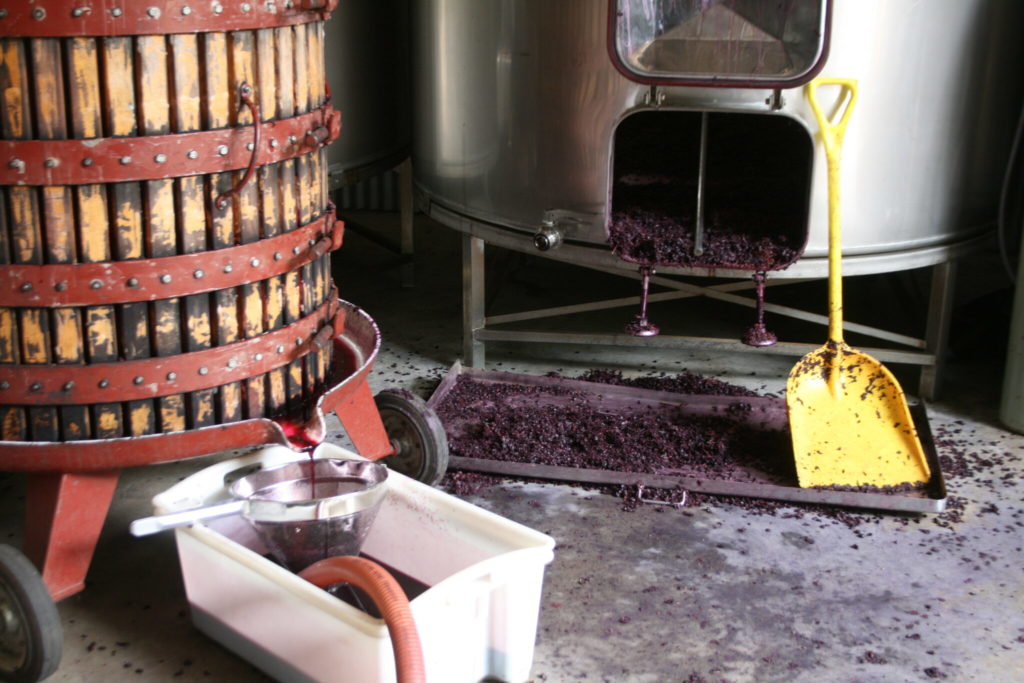 Cape Grace Wines is as much about nuance and art as it is skills and passion. Our wines are a true reflection of the timeless art of winemaking and local terroir.
Handcrafted with patience and care our wines aim to capture the character and flavours of the unique Wilyabrup sub-region of Margaret River and it's blessed growing season, and are a focused expression of our highly individual 'forest' vineyard site.
Production is deliberately low –  with our first vintage in the year 2000 we produced 500 dozen. Today, depending on the vintage it is between 1800-2000 dozen. We sell most of our wine through the cellar door and mail order around Australia.
Estate grown fruit is vinified on the property, with free run juice and light pressings fermented in new, one and two year old French oak, from a carefully selected range of coopers. Minimal interference along with strict temperature and hygiene regimes allows the grapes to express their individual flavour profiles.
Picked in the cool of the early morning to retain the fragile and vibrant primary fruit flavours; our optimally ripe white varieties are treated with great respect during the wine making process to allow the true expression of their flavour profiles.
Harvesting of the reds is determined in the vineyard when the fruit displays rich, ripe flavours and the tannins have matured to ripeness. The grapes are harvested in the cool of the early morning to ensure retention of these fruit driven flavours.
Fruit is sorted then gently hand-plunged for seven to ten days in open fermenters and then left on skins for the slow extraction of fine tannins. The must is then carefully basket pressed and gently transferred to French barriques for 12-18 months maturation. After numerous barrel tastings and blending trials, the final barrel selection is made, gently fined and bottled.
The first vintage 2000 Cape Grace Cabernet Sauvignon received a precedent-setting win for Best Wine at the 2001 Sheraton Wine Awards. This set a quality benchmark for all our future wines.
Cape Grace really is one of the great little wineries!
Our Team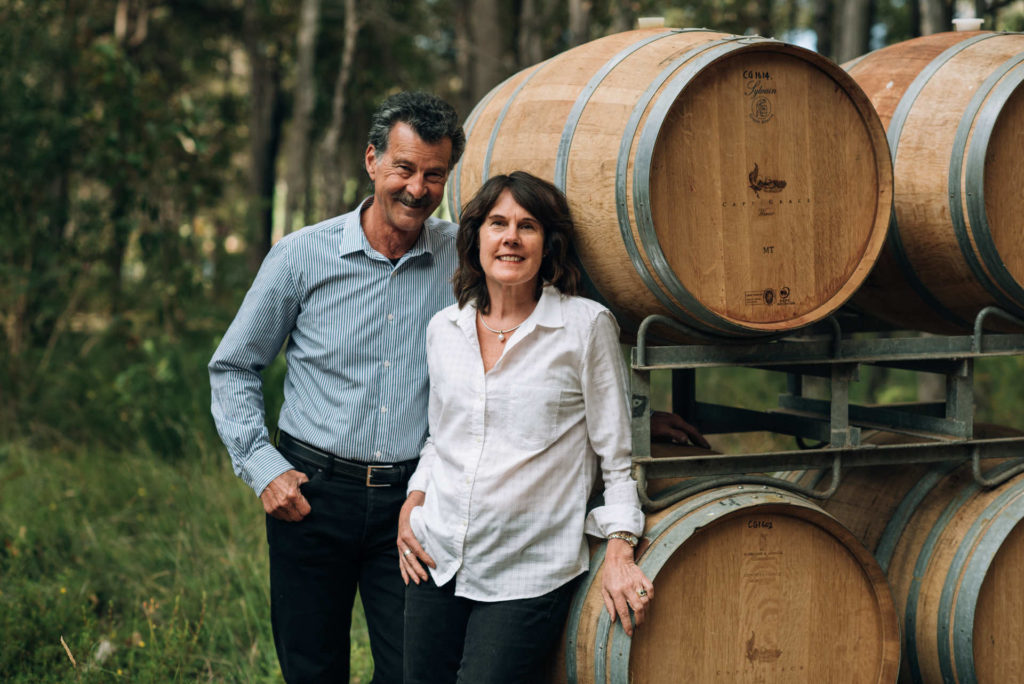 Robert And Karen Karri-Davies
Owners
Robert was a successful corporate photographer for twenty years, working in Australia, Asia and Canada. In addition, he's been a heavy equipment operator, a welder and geological field assistant in both Canada and Australia.
Robert established the Cape Grace vineyard and personally attended to every vine. Robert was also the hands-on winemaker at Cape Grace for the first 12 years, under the guidance of Mark Messenger.
Karen was an international sales and marketing executive for the hospitality industry. Today Karen looks after the sales and marketing of Cape Grace Wines and you will normally find her at the cellar door sharing her love of the region and her extensive wine knowledge.
---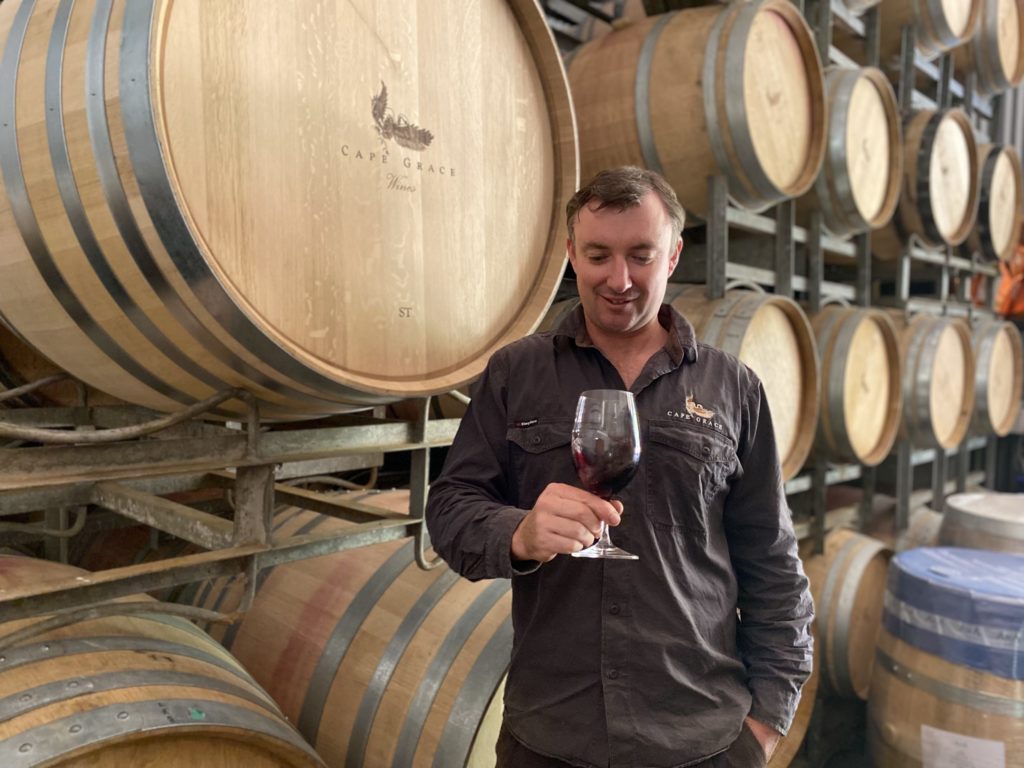 Conrad Tritt
Winemaker
In 2020 Conrad Tritt took over the winemaking and looking after the vineyard here at Cape Grace.
It was in 2007 that Conrad found Margaret River with surfboard in hand, what was to be a 4 month contract turned into 2 years working in the region. An 18 month sojourn home to work for Neudorf in his hometown before coming back to Margaret River in 2010 which he now calls home. Since then Conrad has worked with Pierro, Watershed Premium Wines, and Vasse Felix. The experience of working for some of the finest in the region has built a strong foundation for growing and making great wines that reflect the characters of our special vineyard site.
Having worked 26 vintages including harvests in France, Germany, USA, Australia and New Zealand, the cliché of hard work in the vineyard and respective winemaking ring true in his ethos.
"Being able to reflect the great site we have here at Cape Grace and make exceptional, sustainable Margaret River wines is my focus. Cape Grace has a proven pedigree and I am stoked to be the current custodian to take it into the next chapter."
---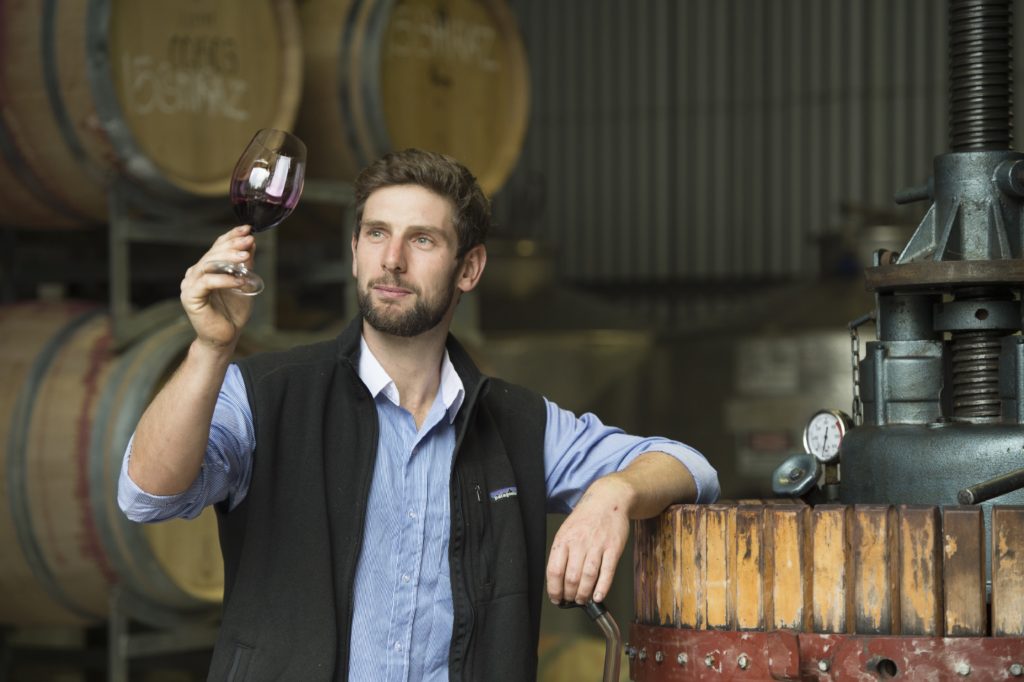 Dylan Arvidson
Winemaker 2012-2020
Dylan Arvidson was the go to hands-on winemaker at Cape Grace from 2012 to 2020.
After eight years of lovingly guiding our pristine fruit from vine to bottle Dylan moved on to focus on his own label, LS Merchants and growing family, however he is always happy to lend a hand. We wish him well in his pursuits.
Mark Messenger
Winemaker to 2019
Mark graduated from the University of Adelaide (previously Roseworthy College) in 1987. He is the chief wine maker at one of our neighbours, Juniper Estate and has been producing award winning wines for over 25 years. Mark has also spent nearly a decade making wine the world over and has been involved in the production of wine with renown producers such as Robert Mondavi (USA), Cloudy Bay (NZ), Veuve Clicquot (USA) and Cape Mentelle (AUS). In 2014, Mark was a finalist for Australia Gourmet Traveller Winemaker of the Year.
Mark now works with some of the regions oldest vines and his vineyard and winemaking philosophies are aligned with that of Cape Grace. In the early days of Cape Grace, his guidance was essential to ensure the fruits of our labours were crafted into wines that truly reflected their variety, site and season.
---

Rusty
Hairy Doorbell
A hairier door bell there has never been!
Rusty is a Jack Russell cross Terrior born 22nd August 2006. These days he prefers to stay at home and sleeps most of the day. For the first 14 years he loved welcoming visitors to the cellar door or keeping Rob company in the vineyard.
He loves a scratch behind the ears and is partial to a treat or two. He has always loved to have other dogs visit Cape Grace and we continue to be dog friendly.
---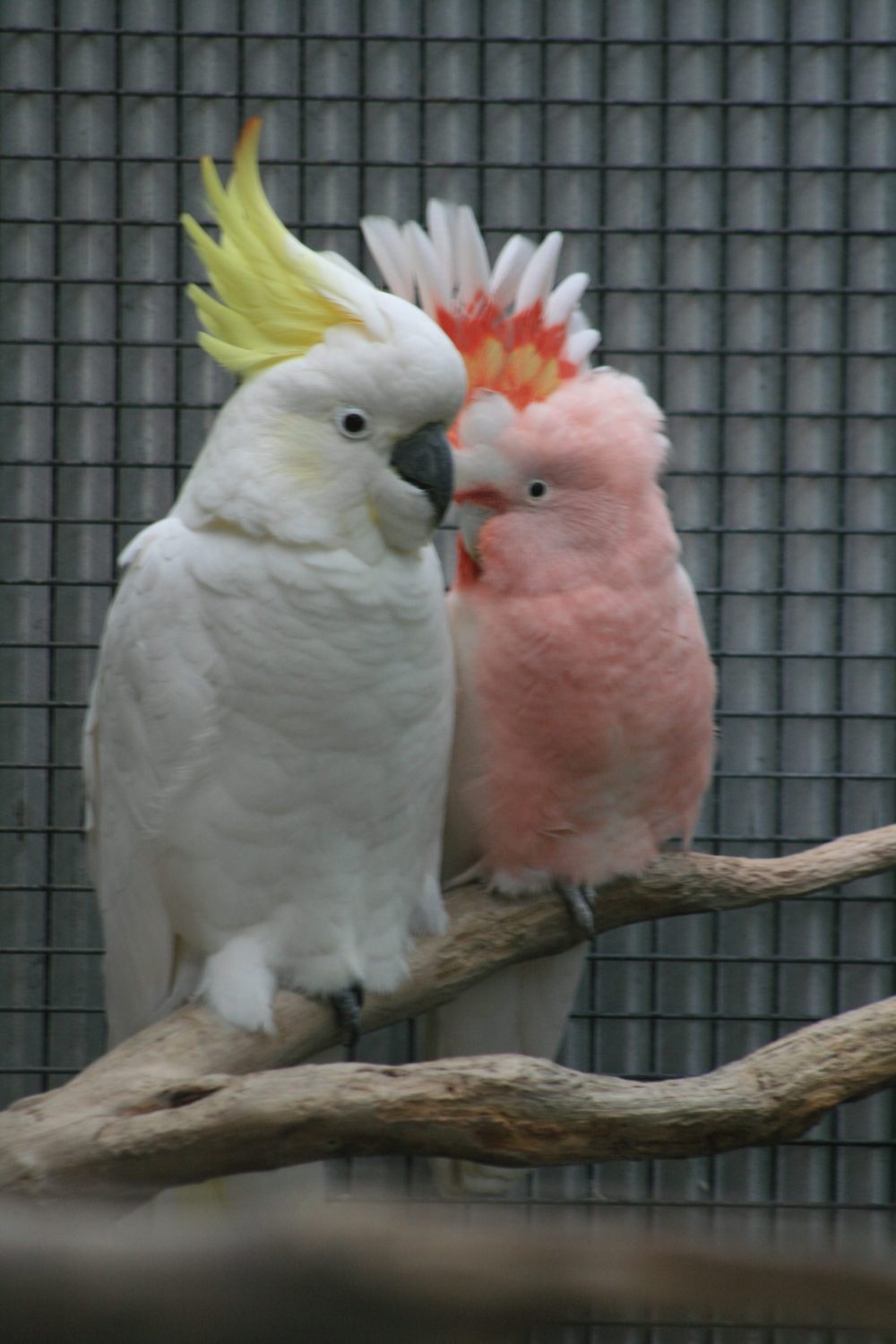 Dusty and Mardie
Family Pets
Adjacent to the cellar door is a collection of Robert's Australian parrots, who are all refugees from the city, who became too noisy for their neighbours. Dusty is the Sulphur Crested Cockatoo and is 32 years old and the Major Mitchell Cockatoo is Mardie and he is 30 years old. They are a bonded pair.
The long billed eastern Corella, Elvis can speak, he may even ask you a question. Great entertainment for young and old.
Cellar Door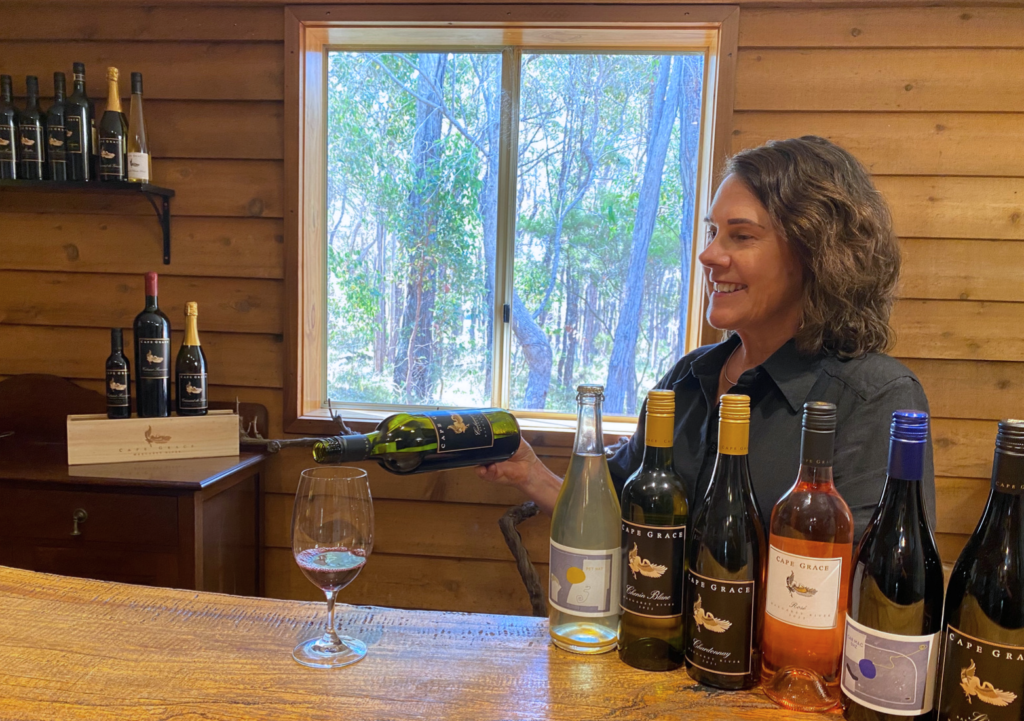 The cellar door opens daily 10am-5pm and you'll meet Karen or one of the team and get some insights into the joys of being a small winemaker! Visitors enter through the wine storage area, which displays a selection of Robert's photographs, paintings and paraphernalia, prior to entering the tasting room.
During vintage visitors may see some fermenting-action in the winery.  If time is available you can tour the winery and have the wine making process explained.
Outside, adjacent to the cellar door, is Robert's private collection of Australian parrots who are all refugees from the city,  in a natural bush setting. You may even catch a glimpse of the Great Egret, an occasional visitor to the dam, who is featured on all Cape Grace Wines labels and if you are really lucky some of the wild endangered black and red cockatoos.
Viticulture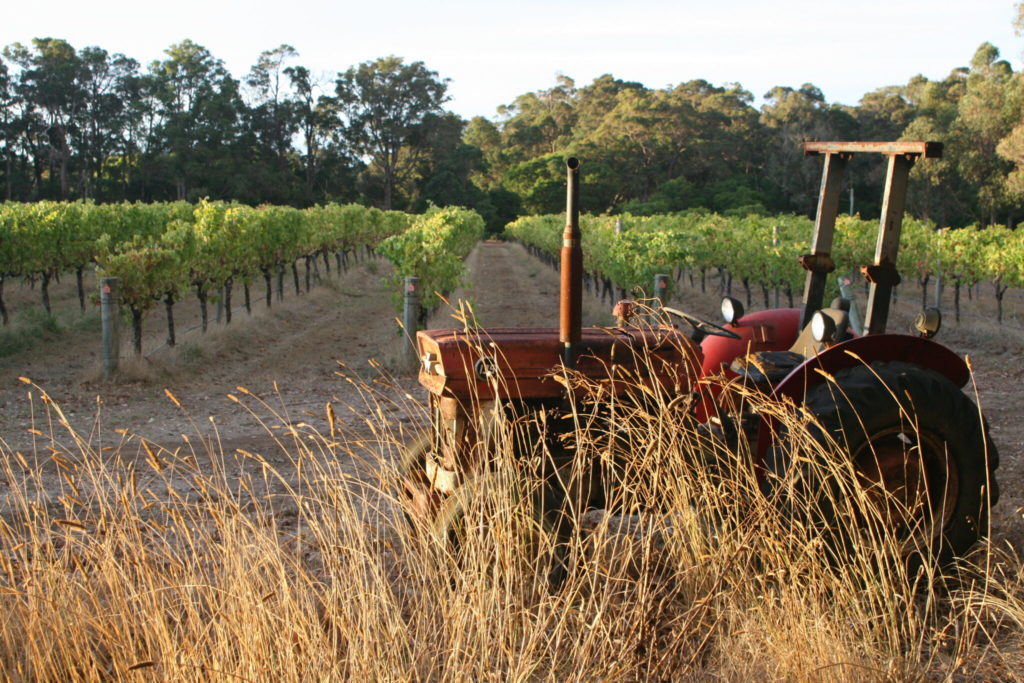 With gravelly loam, consistent temperatures and plenty of sunshine during the growing season, Dr Gladstone's report of 1965 identified the Margaret River Wine Region as having similar characteristics to that of Bordeaux.
Cape Grace vineyard lies in the Wilyabrup sub region of the Margaret River Wine region, the jewel in the so called regional crown and as such was the site on which Dr Tom Cullity originally wanted to establish Vasse Felix. Thankfully for us the farm was not for sale and the rest as they say is history.
Every vineyard is unique, with regards to the relationship between soil and climate and there is an old saying, "Great wines are created in the vineyard" and with this in mind our vineyard is managed with total respect for the relationship between the soil health and vitality and the correlation to vine nutrition and fruit production.
The vineyard is consistently cared for by Conrad Tritt, who is our winemaker ensuring that he has control of the winemaking process from the ground up, with the aim of producing fruit of the highest quality. 
The Cape Grace vineyard is grown naturally using sustainable principles and incorporates some aspects of biodynamic farming in an attempt to preserve and enhance the natural environment. This allows our fruit to be authentically expressive in terms of depth of flavour and structure. This pristine fruit allows us to create individualistic wines that are true to their variety,  site and season.
Soil health and vitality are of major importance and our aim is to "put back" more than we take in terms of soil nutrition. In autumn, after vintage and throughout winter, agistment for Dorper sheep is successful in reducing pasture and gives a lovely sprinkle of manure.  That combined with chicken poo pellets and organic compost create a rich elixir of nutrients and compounds that facilitate soil fertility and thus vine nutrition and health.
Healthy vines are better able to protect themselves from pests and disease via their naturally stronger immune system. We nurture this health by using naturally occurring Sulphur and Copper sprays in the vineyard, this assists in keeping disease at bay while not upsetting the vine's natural micro environment and the soils and microbes they contain. Although necessary, heavy machinery is kept to a minimum to avoid soil compaction.
Cover crops are used between rows to reduce weeds, assisting in balancing the nitrogen in the soil and are employed to provide organic matter back to the soil. Healthy soil, rich with organic matter, has a greater ability to capture and utilize rainfall and moisture and therefore irrigation is kept to a minimum to aid in the concentration of the fruit flavour profiles.
Cane pruning is used in most blocks with the vines grown on a north-south, vertical shoot positioning (vsp), 4 wire trellis system to facilitate even sun exposure and thus ripening, ensuring pristine fruit with slow and steady development.  Hedging, shoot thinning and leaf plucking are part of the canopy management strategy.
We strive to protect and nurture the 10,000 vines on this vineyard that are our old friends. We have served each other well over the past 23 vintages and look forward to many more by constantly researching and investigating vineyard practices and evolving our own.
The Region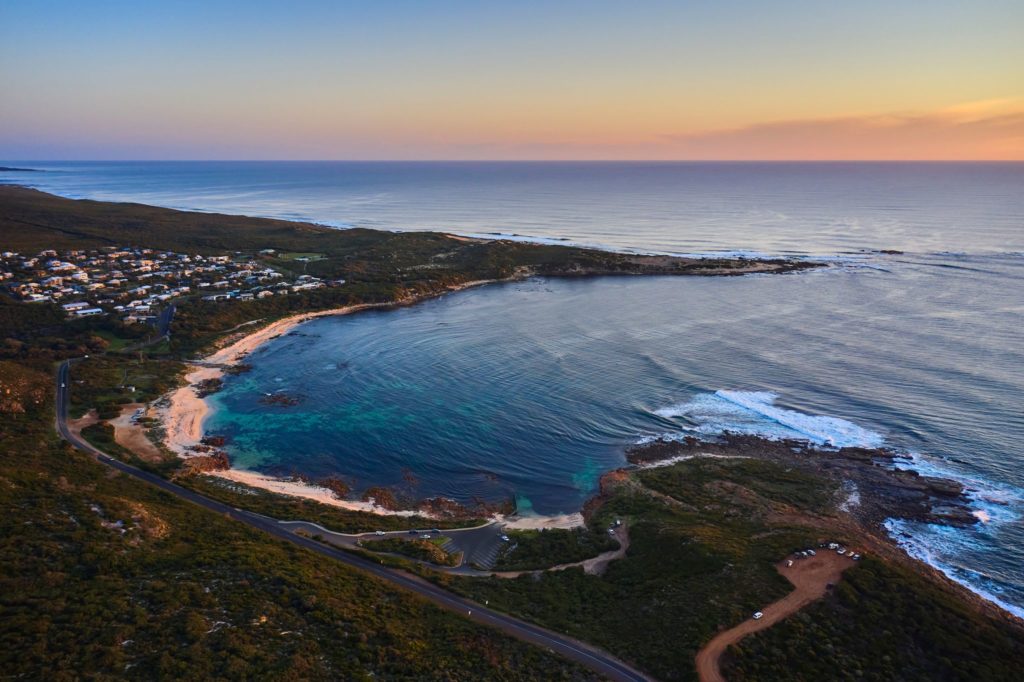 Traditionally owned by the Wadandi people, the undulating landscape created by the water courses of the ridge that connects Cape Leeuwin in the south and Cape Naturaliste in the north, with the well drained ironstone gravel soils and healthy stands of Marri and Jarrah trees, were indications of ideal vineyard growing sites identified by Dr John Gladstone in 1965. Gladstone recognised the region possessed a similar climate to Bordeaux, a moderate maritime climate with low frost risk and plenty of sunshine to encourage even ripening- all the elements for growing pristine fruit.
And so began the advancement of the Margaret River Wine Region… and some 55+ years since the first vines were planted, the region is recognised as one of the world's finest.  The original plantings were in the Wilyabrup sub region with Vasse Felix planting in 1967, then Cullen Wines.  
Cape Grace Wines is fortunate to be established on a pioneering site (where Vasse Felix wanted to plant their vines) and in 1996, Cape Grace was the 27th winery in the Wilyabrup Sub Region. There are now over 150 wine producers and grape growers in the Margaret River Appellation. Today the Margaret River Wine Region commands over 20% of the premium wine market in Australia, while only producing 3% of Australia's total wine production.
The region has a reputation for producing wines with delightful individual fruit character that bring forth the sense of place for one of the most enchanting environments on earth and is filled with an amazing diversity of attractions and activities.
A natural beauty, the region is a treasure trove of native fauna including kangaroos, possums and bird life residing in the towering karri forests, magnificent caves, world class surf, coastal heaths and carpets of seasonal wildflowers.
Hugged by the ocean on three sides, the region offers stunning white sandy beaches, numerous reefs and tranquil bays, dramatic cliffs and rivers, ideal for a diverse range of water activities including swimming, snorkelling, paddle boarding and canoeing. The surfing is world class with The Margaret River Pro being part of the international circuit.
The visual splendor of our region is a sight to behold and a bird's eye view of these jewels can be gained on the numerous walk trails including the Cape to Cape Track "Australia's Ultimate Multi-Day Coastal Walk Track" which stretches from Cape Naturalist in the north to Cape Leeuwin in the south and has many sections that can be walked and explored as pleasant strolls.
We hope that you enjoy your visit to our region as much as we enjoy living here!
For further information on our beautiful region please visit the Margaret River-Busselton Tourism Association website.
Drive Trail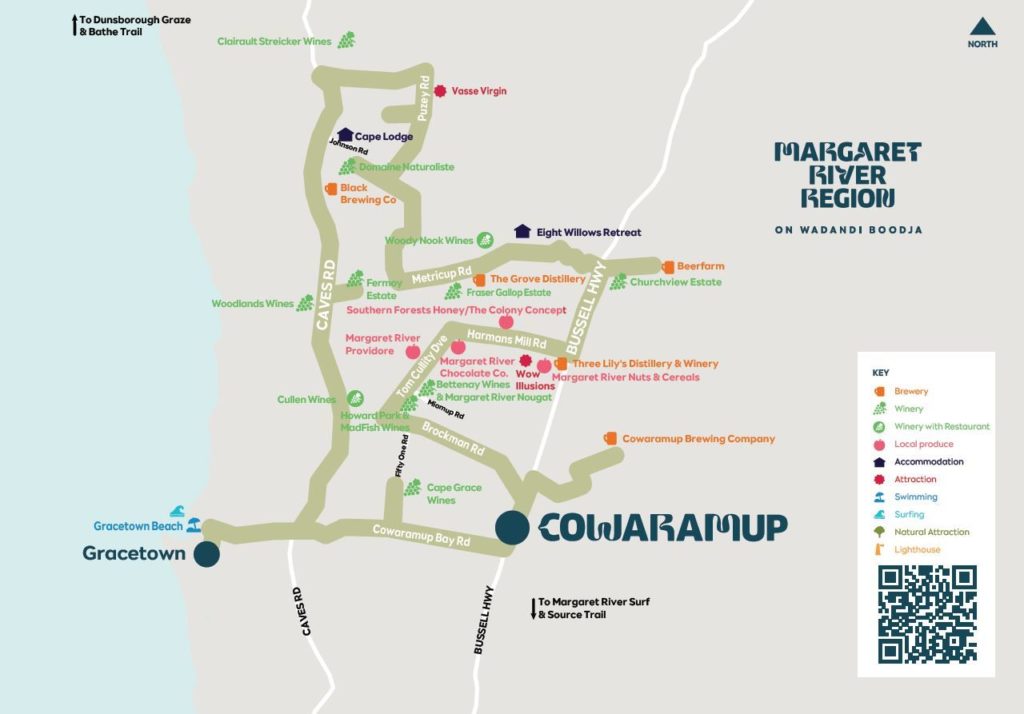 Cape Grace Wines is located on the "Drive your story: Cowaramup Harvest and Vines Trail" nestled halfway along Fifty One Road, 10 minutes from the Cowaramup township and 20 minutes from Margaret River. You will drive through our 15 acre vineyard on the way to the cellar door which is surrounded by native bush. We are often referred to as "One of the Great Little Wineries" and we are literally a tin shed in the forest.